Solutions
Actoris Consulting features solutions for key areas of your business operations. Zoho Corporation provides "the operating system for business". Everything you need to boost sales, step up productivity and manage all day to day activities. Tightly integrated, and accessible on mobile. Daylite is a business productivity application made exclusively for the Mac, iPhone and iPad. It can be the hub of your Macintosh based organization, allowing you to provide superior levels of customer communication and service. MoneyWorks is "Seriously Good Accounting Software". It's designed for speed, engineered for power and priced for your bottom line.
Zoho Customer Relationship Management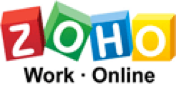 With Zoho, you focus on your business while they take care of the rest with applications that help you get more sales, get paid, support your customers and make your business more productive. Zoho offers a comprehensive suite of award-winning business, productivity and collaboration applications. Use Zoho applications to run your business processes, manage your information and be more productive while at the office or on the go, without having to worry about expensive or outdated hardware or software.
Click here to learn more...
Daylite Productivity Suite & Daylite Touch


Designed for the unique needs of Mac-based businesses of 1-50 people, Daylite is a new generation of productivity management software. Daylite's time-saving features include shared calendars, seamless integration with Apple Mail (through DMI), project and activity delegation, multiple pipeline views, a built-in report writer, sophisticated offline capabilities, and a clean, easy-to-use interface.
Click here to learn more...

MoneyWorks Accounting Software


MoneyWorks provides a range of feature rich but easy-to-use solutions for small-to-medium organizations. Whether you operate from home or have multiple offices scattered around the world, there is a MoneyWorks solution for you. Over 40,000 companies worldwide enjoy the best of both worlds: Fast, user-friendly interface combined with the power and flexibility that is normally reserved for big corporations. All at a price that is easy on the bottom line.
Click here to learn more...